General California Info
California is a neighborhood located on the Ohio River 9 miles east of downtown Cincinnati. This neighborhood was named after the state of California. A portion of Coney Island Amusement Park sits within its borders. With 469 residents, California is the 49th largest neighborhood in the City.
This pointed shape references the home and family. It also represents to the neighborhood's architecture and many churches, echoed in the pointed roof designs of the 'Avondale Pride' mural on Reading Road.
Bold, clear stripes in a rising pattern stand for the layered history of Avondale and for a multi-generational community supporting one another.
The symbolic "A" iconography is a callback to the tall "A" outside of the Town Center in the 80s, a nod to the Avondale Council 'A' icon and, of course, Avondale's namesake.
Avondale's colors are Red, Black & Gold
Gold for the energy and richness that makes up the community
Black for the strength and resilience of Avondale residents
Red for the passion, care and love the community shares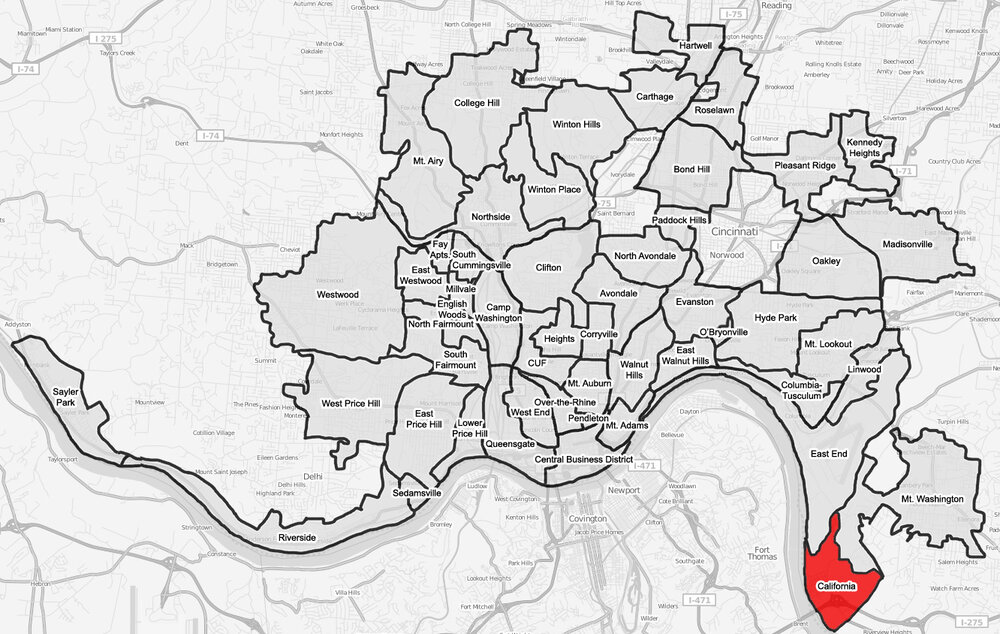 an eastern Cincinnati neighborhood that is home to only 469 residents as well as the Greater Cincinnati Water Works Richard Miller Treatment Plant and California Golf Course.